In September I wrote a blog about my first year as a figurehead, in response to questions I received, what do you actually do as a figurehead. Now the intention to give an update once a quarter to take you on my journey as a figurehead.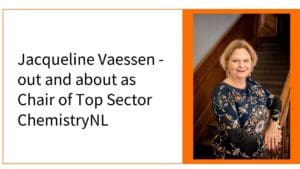 In September I was allowed to give a guest lesson to a 3 havo class at the Infinity college in Utrecht. My first question they thought of in chemistry was "Extasy". I still held my line to take them into the world of plastics recycling. On the basis of a video of how sustainable do you make it in which Jan Willem Desch van Platpak makes a connection between dog poop and waste plastic, I got their attention. When I went to walk my dog ​​two weeks later, a girl stopped in the middle of the zebra crossing; "Mom, that's the lady from chemistry." Still left an impression.
Then I went on a wonderful vacation to Albania. A fantastic country and highly recommended. Recharged the battery to get back to work with all the challenges such as the merger of TKI Chemie and TKI BBE. But first I went to Paris where we organized the first international workshop on BBE together with the embassy in Paris in the official residence of the ambassador. Yes, the one from Les Intouchables. So nice to walk around there and recognize so many things from the movie (my favorite). Less fun is that I brought Corona with me from Paris (PA Pascale commented that I should have brought a keychain from the Eiffel Tower as a souvenir). I was really sick of it and unfortunately had to miss my performances at the Dutch Design Week. Very unfortunate, but hopefully next year a new chance.
The French – Dutch workshop Biobased Materials in France was a great success and we are working hard on the follow-up. In November we also organized a workshop with Brazil on Biobased Chemistry. Again a lively exchange, but now we are going to develop concrete projects. The cooperation with the innovation attaches at the embassies is very fruitful.
In September, together with the Top Sectors Energy and Agro Food and the Ministry of Economic Affairs and Climate Policy, we started preparations for the merger between TKI BBE and TKI Chemie. A transition team was started under the inspiring leadership of Tom van Aken and they made all the preparations for the merger. The new TKI Green Chemistry and Circularity was formally established on 1 January. Peter Berben started as new director on 1 February. I look forward to working with Peter and shaping the new TKI. A nice new challenge. From this place I would like to thank Oscar van de Brink for all his efforts in recent years as TKI director.
In November I paid a working visit to DOW. A delegation of no less than 10 people was there for me. Wow, what a welcome. We talked about DOW's sustainability plans and also about their possible role in the Growth Fund proposal Circular Plastics NL. And finally a nice tour of the complex. It was a fantastic and inspiring day.
The growth fund proposals for round 3 are now nearing completion. I am very pleased that we have a great proposal for CCUS in the form of Future Carbon, supported by a broad consortium of companies. I sincerely hope that we can start with this next year, a great way to work on the reduction of CO2 and also a great opportunity to show that Chemistry plays a major role in this. Unfortunately, we had to postpone the application for materials independence to round 4. But we didn't sit still there either, and two sessions will take place later in February in which we discuss with the field where the challenges lie and how we can create opportunities. I look forward to the workshops and hope that we can submit a great new proposal in round 4 in which we will work on extracting critical raw materials from waste. Wouldn't it be great if the Netherlands could play a pioneering role in this.
Finally, there were also meetings of the top team, the chairs of the other top sectors, the mission teams, the theme teams, the MTIB consultation and the round table on hydrogen and green chemistry. It eats up a large part of the time that is available, but it does contribute to improving the innovation climate in the Netherlands, and after all, that's what we're all doing it for.
Jacqueline Vaessen
Read here the blog in Dutch
First year as a chair of Top Sector ChemistryNL