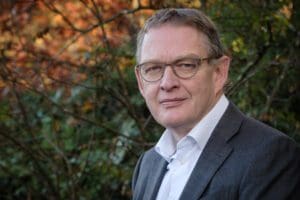 As of February 1, 2023, Peter Berben will lead the merged top consortium resulting from the TKIs Chemistry and Biobased Economy (BBE). Berben has been senior research manager at BASF since 2006 and has an extensive track record in the development and commercialization of various innovations in chemistry. He is also involved and active in technology networks such as TNO, VNCI, NWO and he is well acquainted with the Top Sectors.
Jacqueline Vaessen: "As figureheads for Chemistry, Energy and Agri & Food, we are very pleased that Peter Berben, with his knowledge and experience, wants to safeguard the various transition files in the field of raw materials, materials, circularity and health in the new TKI, so that we can integrate and speed up. Peter is known as a connecting professional who allows multidisciplinary teams to excel and can motivate various parties towards a uniform goal".
Peter Berben will work on the substantive merger of the TKIs BBE and Chemistry. The new TKI will be responsible for building and expanding the innovation agendas of chemistry, the biobased economy and the circular economy, aimed at groundbreaking innovations, CO2 reduction and sustainable economic renewal and growth. In his new role, Berben is also responsible for the implementation of the Knowledge and Innovation Agenda for the Circular Economy, together with the Ministry of Infrastructure and Water Management.
Peter Berben: "Chemistry plays a key role in the transition to a sustainable world. The switch to the use of non-fossil raw materials, including products from the agricultural industry, requires new knowledge and innovations. I look forward to contributing to that turnaround with the new TKI, alongside other innovation challenges where chemistry plays a crucial role, such as in the medical world. The first priority will be to merge the TKIs BBE and Chemie to define joint objectives."
Questions regarding this message?
For questions, please contact the secretariat of TKI Chemie, e-mail: info@chemistrynl.com.