Opportunities for the Netherlands in the energy transition
Batteries are a key technology for the energy transition. They are an important means of making the mobility sector more sustainable and can stabilise the electricity grid. Europe is investing massively in battery production with over 6 billion in 'Important Projects of Common European Interest'.
There are also opportunities for the Netherlands. Already, 250 parties are active as developers and users of new batteries. These parties have a potential earning capacity of over €2,5 billion in 2030. The new Battery Systems Action Agenda shows where these opportunities lie: new material innovations, electric heavy transport and recycling. The Battery Systems Action Agenda has been drawn up by the business community and knowledge institutions (expert group) and is supported by central government and top sectors ChemistryNL, Energy and Holland High Tech.
Do you want to participate? Join the National programme for battery systems by contacting the Battery Competence Center.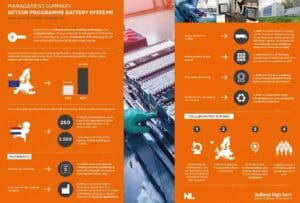 Downloads
Management summary
Action Agenda (in Dutch)