ChemistryNL is sponsor of the National Chemistry Olympiad (NSO) for the first time this year. Onno de Vreede – HCA Coordinator presented the 'kanjer prizes' to the 4 winners on behalf of ChemistryNL. An additional prize has also been awarded, the so-called Challenge Prize.
Winners National Chemistry Olympiad
The winners were congratulated by Onno de Vreede, Human Capital coordinator of ChemistryNL. He also presented the top 4 prizes of 250 euros. The winners are:
Jochem van den Broek (17 years, 6v) from Eindhoven from the Lorentz Casimir Lyceum in Eindhoven has convincingly won the 42nd National Chemistry Olympiad (NSO). In second place, Mitchell Rikken (17 years, 5h) from Arnhem of the Lyceum Elst surprisingly finished. It is the first time in the history of the NSO that a student from 5 havo finishes in the top 4, a great achievement. Bas Krikke (16 years, 5v) from Vugt van het Gymnasium Beekvliet in Sint-Michielsgestel was third and fourth place went to Jeramy Kop (18 years, 5v) from Heerhugowaard of huygens college in Heerhugowaard.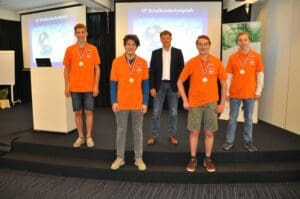 Top 4 winners ChemistryNL 'kanjerprijs'

Winner challenge prize
For the first time, a Challenge Prize was also awarded. The students wrote an essay dated in 2050 in which they look back on the past 25 years and described to which innovative breakthroughs they have contributed and what the social impact of this has been. Björn Kleipool (18 years, 6v) of the Calvin Green Heart in Barendrecht won this prize of 250 euros with his article on the development of a nuclear fusion reactor for commercial spaceflight and the production and application of carbon nanotubes in aircraft and missiles. Read the full newsarticle here (in Dutch).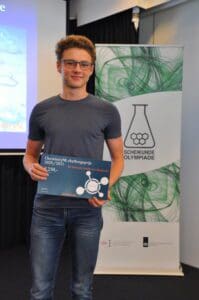 Winner Challenge prize
Check out the articles of the NSO students in our ChemistryNL Times:
Fusion engines (chemistrynl-times.com)
Genetic technology (chemistrynl-times.com)
Treatments for prion diseases (chemistrynl-times.com)
Summer coat for polar bears (chemistrynl-times.com)
Promoting apoptosis in tumor cells (chemistrynl-times.com)
Purifying polluted water (chemistrynl-times.com)