Plastics offer a unique combination of properties: flexible, cheap, strong and light. But there is also a downside to contemporary plastics. This week TNO published the white paper "Don't waste it! Solving the dark side of today's plastics". It draws the conclusion that plastics are indispensable and that the urgency to make plastics 'future proof' as part of the circular transition is enormous.
The paper is based on a new internally developed circular model: PRISM. TNO applied this model as an example to the Dutch situation regarding the expected circularity of plastics, by 2050 it shows that up to 87% of the then expected 1640 kilotons of Dutch plastic waste can be recovered.
Based on the outcome of the PRISM model, TNO recommends crucial solutions that will significantly accelerate the transition towards circular plastics: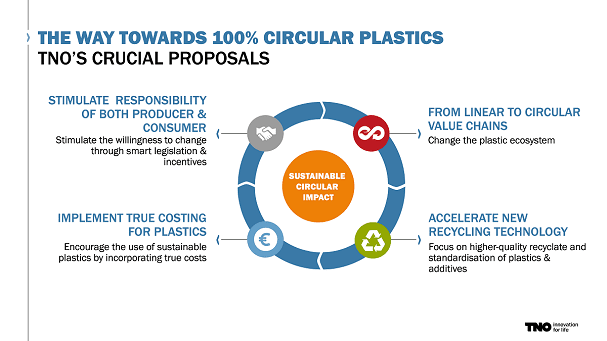 The proposed solutions are suited to any country willing to increase circularity of its plastics.