On 21 August, the Marriott Hotel in The Hague hosted the summit by ChemistryNL on critical raw materials in the energy transition. As part of the summit, outgoing Minister Micky Adriaansens from Economic Affairs and Climate received the knowledge agenda 'Strategic autonomy of raw materials' – an agenda with which the parties involved aim to stimulate the development of knowledge through cooperation between business, administrations and knowledge institutions.
The knowledge agenda is an initiative by the Top Sector ChemistryNL and the MaterialenNL Platform, within which the Top Sectors ChemistryNL, Energy and Hollanh High Tech are working together. The agenda was drafted with contributions from over one hundred fellow thinkers and doers from Dutch business, research institutions and the government. During the summit in The Hague, Jacqueline Vaessen, Lead for the Chemistry Top Sector, presented the document to Minister Adriaansens.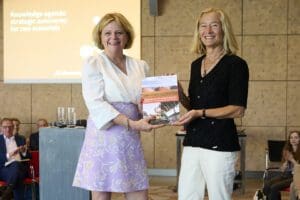 Minister Adriaansens: "This agenda comes at the perfect time. Developing knowledge is essential for the success of our raw materials strategy. It's not only a technical agenda, but also a geopolitical one. We know we can't go this alone as the Netherlands, or as Europe, and we need to find a way to cooperate with the world around us. I have total faith that we will succeed."
Why this knowledge agenda?
The energy transition is calling for large volumes of mineral raw materials for use in products such as batteries, solar cells and electrolysers. This includes elements such as lithium, cobalt and rare earth metals. To obtain these elements, the Netherlands is dependent on supply chains that in most cases are in foreign (non-European) hands. Society has to prepare for a new reality where it concerns the use of materials, risk management and promising directions for solutions.
Jacqueline Vaessen: "In essence, the energy transition is a transition in raw materials, and the Netherlands can take a leading role in this. We are a knowledge nation with a strong chemical sector in a central position in Europe."
This new reality is eliciting numerous knowledge-related questions from companies, citizens, the government and the scientific community. The knowledge agenda brings these questions together. With the document, parties wish to offer a foundation for innovation: to stimulate innovation that contributes to a strategic autonomy for raw materials. In this process, the aim is to create 'resilient supply chains' – supply chains that are capable of absorbing internal or external disruption.
Knowledge questions and directions for solutions have been formulated from four perspectives:|
Insight into product chains, material streams, delivery risks and impact on the economy and society
Technology, industry and value creation
Developing competencies.
Governance, behaviour and chain responsibility.
The knowledge agenda calls for social, methodological and technological renewal. This does justice to the complexity of the topic. The agenda also aims to serve as the basis for creating new partnerships between knowledge institutions and business.
Download the knowledge agenda 'MaterialenNL: Strategic Autonomy' (in Dutch).