For the first time in three years, employees of the DAS programmes were able to meet again on Thursday 31 March and exchange knowledge at the DAS Conference. After an eventful time, we looked ahead to the future. Society is changing and the labor market is also changing rapidly. Are we ready for the future?
After an intriguing keynote by Patrick van der Duin (Foundation for the Future of Technology) about various scenarios for developments in society, and two rounds of instructive and interesting parallel sessions, we bridged the gap from social developments to our education and research.
Day chairmen Carine Joosse (Hanze University of Applied Sciences Groningen) and Patrick Cramers (University of Applied Sciences Utrecht) talked to the participants and a panel representing the professional field, education and research. Panel member Onno de Vreede (ChemistryNL) took us through the transition of chemical companies from a fossil economy to a circular economy and from manual process control to far-reaching process automation. The current shortage on the labor market offers opportunities to accelerate the automation process. In addition to a good basis in chemistry, this also requires an increasing knowledge of ICT processes and data analysis. This ties in with the view of the participants in the room about the Applied Science professional of the future: they spend about as much time behind the computer as they do in the lab.
Read the full article on the website of DAS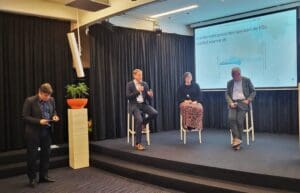 Panel members on stage: Onno de Vreede, Jessica Zweers , Pedro Hermkens (vlnr) and chair Patrick Cramers (l)