Imagination at Work is a national competition in which students, together with researchers from the chemistry and life sciences, work on issues surrounding sustainability. During this final, three student teams presented their research that they conducted as part of their profile assignment. The research by winners Hannah and William and Reinard focused on the question of whether removing phosphate from synthetic wastewater is more sustainable through the formation of struvite or the formation of vivianite. The supervision was in the hands of Steven Beijer of the University of Amsterdam and Jan-Jaap Hofman of the Van Lodenstein College. Imagination at Work is organised by Centrum JongerenCommunicatie Chemie (C3). The winners of the competion receive a check for 500 euros each as a contribution to their studies. Students Hannah van den Brink, William van Hell and Reinard van Lent of the Van Lodenstein College in Amersfoort are the winners of the competition.
Information about their winning research
Phosphate is an important compound on Earth and is useful for a variety of applications. Phosphate is extracted from mines — a polluting and non-renewable process. After being used domestically and agriculturally, phosphate ends up in wastewater in high concentrations. If this water is eventually discharged into surface water, eutrophication takes place. The extraction of phosphate also remains necessary in this way. To take a step towards a closed phosphorus cycle, it is therefore important that phosphate is removed from the wastewater. This can be done with phosphate salts. Two of these salts are struvite and vivianite. In this study, struvite and vivianite are compared on the basis of a) phosphate yield at different temperatures (0 °C, 20 °C, 30 °C) and b) sustainability in terms of energy consumption, economy and environmental impact of the required raw materials for and the process of phosphate recovery. Struvite has been found to have a higher phosphate yield than vivianite and to be less temperature dependent during precipitation. With vivianite the durability is better. Due to unclear results in the vivianite precipitation it is difficult to draw a clear conclusion. Follow-up research will be needed to properly determine the ultimate better method of phosphate removal and recovery.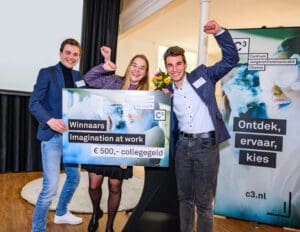 Foto: Amy van Leiden Fotografie
Poster presentations
The student teams that were not among the finalists presented their research this afternoon via a poster presentation. Pien Jongkind, Lotte de Haan and Floor Schipper of the Montessori College Eindhoven obtained the first prize. They win a trip to the circular example city Blue City In Rotterdam. They conducted research for Ducor into the circular recycling process of polypropylene. The jury was formed by Onno de Vreede, Coordinator Human Capital Agenda ChemistryNL and master's students Vincent Koeman (Chemistry), Sophie van Nieuwkoop (Bio-Pharmaceutical Sciences) and Emma van den Bergh (Toxicology and Environmental Health).
Imagination at Work
This school year 2021-2022 is the fifth time that Imagination at Work is being organized. This is a programme in which secondary school students work together with young researchers from industry and higher education on current issues surrounding sustainability as part of their profile assignment. The programme ensures that young people gain more insight into sustainability issues and that they have valuable encounters with scientists and professionals from the chemistry and life sciences. They are given the opportunity to work on issues that are important for their own future. It is also an introduction to the professional field and stimulates students to think about who they want to be, what they want to become, which courses are appropriate and the choices they make during secondary school.