Save the date
We warmly invite you to our 5th edition of the ECCM Conference, the yearly event for the Dutch community of ElectroChemical Conversion & Materials. Are you interested in the latest developments on electrification, electro-conversion and the energy transition? Join us on Friday 24 June 2022 in The Hague.
Confirmed speakers



Call for abstracts – deadline 31st March
Next to our keynote lectures, the ECCM conference will feature eight parallel lectures given by national experts. Would you like to contribute? You can submit your 100-words abstract here until Thursday 31st March 2022.
Who can submit?
We encourage submission by experienced speakers and senior experts from knowledge institutes (universities, universities of applied sciences, TO2s, research institutes), industry, government and NGOs.
What are the themes for abstracts?
The parallel sessions follow the four lines of the ECCM National Agenda: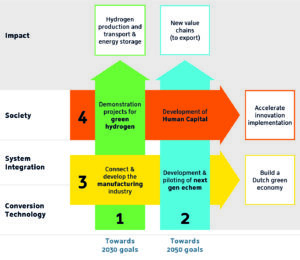 1. Large pilots and demos for green hydrogen
2. Next generation electro-conversion
3. Role of the high-tech manufacturing industry
4. Development of Human Capital
What are the selection criteria?
• Fit with the theme of the parallel session.
• Quality of the content in the sense of technological, scientific or socio-economic approach.
• Balance between contributions from knowledge institutes, industry, government and NGOs.
The programme committee will carefully consider all abstracts submitted following the selection criteria. By the end of April 2022 applicants shall be informed on the outcome of the selection process. As there are only 8 slots available for parallel talks, if your talk is not selected we might contact you to offer you a poster presentation.
Details – ECCM Conference 2022
• When: Friday 24 June 2022, 9.30 – 18.00CET
• Where: The Hague Conference Centre, building New Babylon
• Setup: a one-day conference with international keynote lectures from academia, industry and NGOs. The rest of the programme will be announced soon.
• Registration will open in spring.
• Participation is on the basis of first come, first served. Participation is free and includes lunch
• Language: English.
More information on the ECCM website.